Some Dive Schools say it matters which Dive Association you belong to. But our clients who have been faced with a law suit when their Business and Home are on the line would say: It matters more which Insurance Policy You Carry!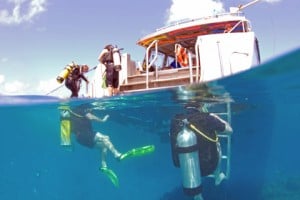 Our Trade Indigo Liability Insurance Policy 'Trade INDIGO' is the front runner in Trade Liability Policies and covers all the major Dive Associations. Some other policies do not cover diver training to all the major Dive Associations standards.
Our Trade Indigo Liability Insurance Policy covers 'slip and trip' in your Store, giving wrong advice in the Class Room, using your compressor, servicing and Marine Liability on the boats that you use for business purposes. No other policy gives you this totally integrated cover.
With specialist knowledge of the diving industry, and as the leading provider of diving insurance we offer the following unique cover for the associated risks of the recreational dive trade:
Advice and instruction
Failure to give correct advice
Training in all recreational dive training courses including Technical Diving
Training and instruction away from your own premises
Training anywhere in the world (excl. USA and Canada)
Liability between trainees under the supervision of your dive centre/school
Liability for handling boats up to 15 metres in length in connection with your business
Principals (i.e. Schools/Hotels/Tour Operators) if they are joined in a suit against you
Advice given by your employees whether full time, part time or voluntary
Liability of operating a compressor
Unlimited legal defence costs for civil liability claims
Legal defence costs for Health & Safety prosecutions
Cover for Underwater Scientific and Film and Media projects
Optional Cover
UK Employer's Liability
Product Liability on the goods and services you provide, hiring, selling & servicing of dive equipment
Inland dive sites, lakes, pits, reservoirs and cave systems.
Manufacturing and distribution of diving related products.
And that's not all, ask Us About Other Insurance Too!
Boats, Ships, Resorts, Hotels and Life Insurance.
Being a Lloyd's Cover Holder for 20 years gives Dive Master access to the most versatile Insurance Market in the world!
When you want the best protection, seek the company with the best reputation. Dive Master Insurance Consultants Ltd has been voted 

Top Company in an Internet Poll of Specialist Dive Insurance.
UK clients please click here to download a proposal form. UK Proposal 
Note: Dive Trade INDIGO Liability Cover is not a student personal accident policy.
If you are based outside of the UK please click here to download and complete a proposal form.
Alternatively email contact trade@divemasterinsurance.com