We guarantee to beat any like for like specialist Dive Professional Liability Insurance quote by 10%! 
Our Dive Master insurance covers you for instructing, supervising and guiding to all the recreational Certifying Associations training programs on an annual worldwide* basis, with the benefit of no common renewal date.
This policy covers: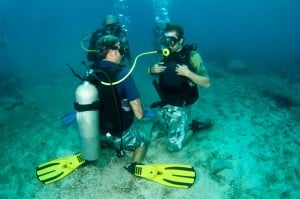 This policy covers:
Recreational Snorkelling
Free Diving, Recreational Diving
Underwater Scientific projects
Underwater Film & Media projects
Any First Aid required as a result of these activities.
Main points of coverage
This policy protects your civil liability if you are sued by a member of the public, a client or student, or your dive buddy.
This policy covers your legal liability arising from any bodily injury or damage caused as the result of you providing diving equipment to your clients or students.
This policy cover extends to your Principals if they are joined in a suit against you as a result of your actions. Principals can be Hotels, Schools, Tour Operators, Local Authorities or any one providing you with clients.
Full diving insurance policy details can be found in the policy wording and keys facts. Note Pro diver is a Liability policy only. For personal accident cover check out our IDEC Policy.
*This policy does not include coverage for the USA, Canada, their territories or possessions and is not available to citizens of these territories.
We recommend a limit of £3 Million or higher as this is required by various certifying associations & authoritative bodies.