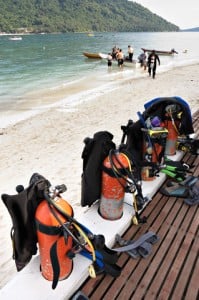 Travelling abroad on a holiday of a lifetime is an exciting prospect until something goes wrong. Unfortunately,  many Britons are voiding their travel insurance policies by failing to get the necessary jabs and vaccinations before they set off abroad. A travel industry warning has been issued by insurers who believe that too many holidaymakers are putting their insurance policies at risk by failing to get vaccinated.
According to the NHS, almost one in four Britons doesn't get the necessary inoculation jabs before travelling. This is leaving thousands of people at the risk of having to pay out huge medical bills. For example, a policy could be invalidated if you contract a tropical disease as a result of not having a required inoculation. A situation such as this could end up costing an individual hundreds of thousands of pounds in order to receive the proper medical care and attention.
The frustrating thing is that it is extremely simple to find out whether you need vaccinations before you travel. Simply book an appointment with your GP who will be able to check your medical records to see if you need any extra jab boosts. It is advisable to do this around eight weeks in advance of your trip if possible, as some vaccination courses need to be carried out over a set number of weeks. Don't invalidate your diving insurance by not reading and following the small print. We want all our customers to be fully covered in the event of an emergency.
There is no reason why your scuba diving insurance policies should be invalidated, so long as you read the terms and conditions properly. Our staff can give professional advice on any questions that you may have regarding insurance. Find free advice about vaccinations at the NHS's travel website.